Less than 8 miles northeast from Downtown Mount Vernon, you'll find yourself walking along the quaint streets of Fredericktown.
Settled in 1807, a year before Knox County was established, this charming town offers small town amenities, friendly businesses and a sense of feeling "at home".
If you are looking for a day away, Fredericktown offers a variety of activities, things to do and see for the weekend getaway couple or the road tripping family.
Start your day with a stop in the Homestead Family Restaurant. Find a cozy booth and make sure you order the pancake(s). We'd recommend splitting one for the table because they're larger than life!
As the afternoon sun rises and temperatures heat up, you're going to want to head to Fredericktown's newest attraction, Kokosing Park! This 1,200 square foot splash pad is open to the public, boasting brand new restrooms, tables with shade umbrellas, park benches, new landscaping and much more.
Recently, Amanda Strater, owner and operator of Plus One Photography, enjoyed an afternoon at the park capturing plenty of splashes and smiles among the visitors. "This splash pad helps enhance our Fredericktown community—especially for families", said Strater.
After an afternoon splash, it's time to grab a bite a Duffers Restaurant and Pub. With daily specials and craft beers on tap, you'll enjoy a sunny afternoon on their patio.
If you need to walk off the wings or stacked reuben, take a stroll to the local shops. The famed, Brickhouse Grind sits at the corner of South Main and East Sandusky; a cozy coffee (sip on the Brickhouse Mocha) and gift shop. Don't be surprised if you leave there feeling inspired, they offer a variety of art classes and workshops in their next-door studio.
Feeling more in tune with mother nature, adventurers and anglers can head out to the 185-acre Knox Lake. "Knox Lake is historically one of the best largemouth bass fisheries in the state and is heavily targeted for large trophy flathead catfish", according to OhioDNR.gov. "Other fishing opportunities include black and white crappie, bluegill, channel catfish, and yellow perch." After an afternoon of enjoying the great outdoors, visitors can set up camp at Knox Lake Campground. The campground offers 46 sites, partial and primitive hookup RV, tent camping, a large picnic area, playground, and a two-lane boat ramp.
End your day with some live music and good eating at Door 142 or if, it's a Thursday, check out the food trucks, local vendors and produce at the Fredericktown Farmers Market (Thursdays, 4PM-7PM).
With charm and hidden gems, Fredericktown will invite you back for more. Make it a point to mark your calendar for their annual street fair, the Fredericktown Tomato Show. See you September 7th through September 10!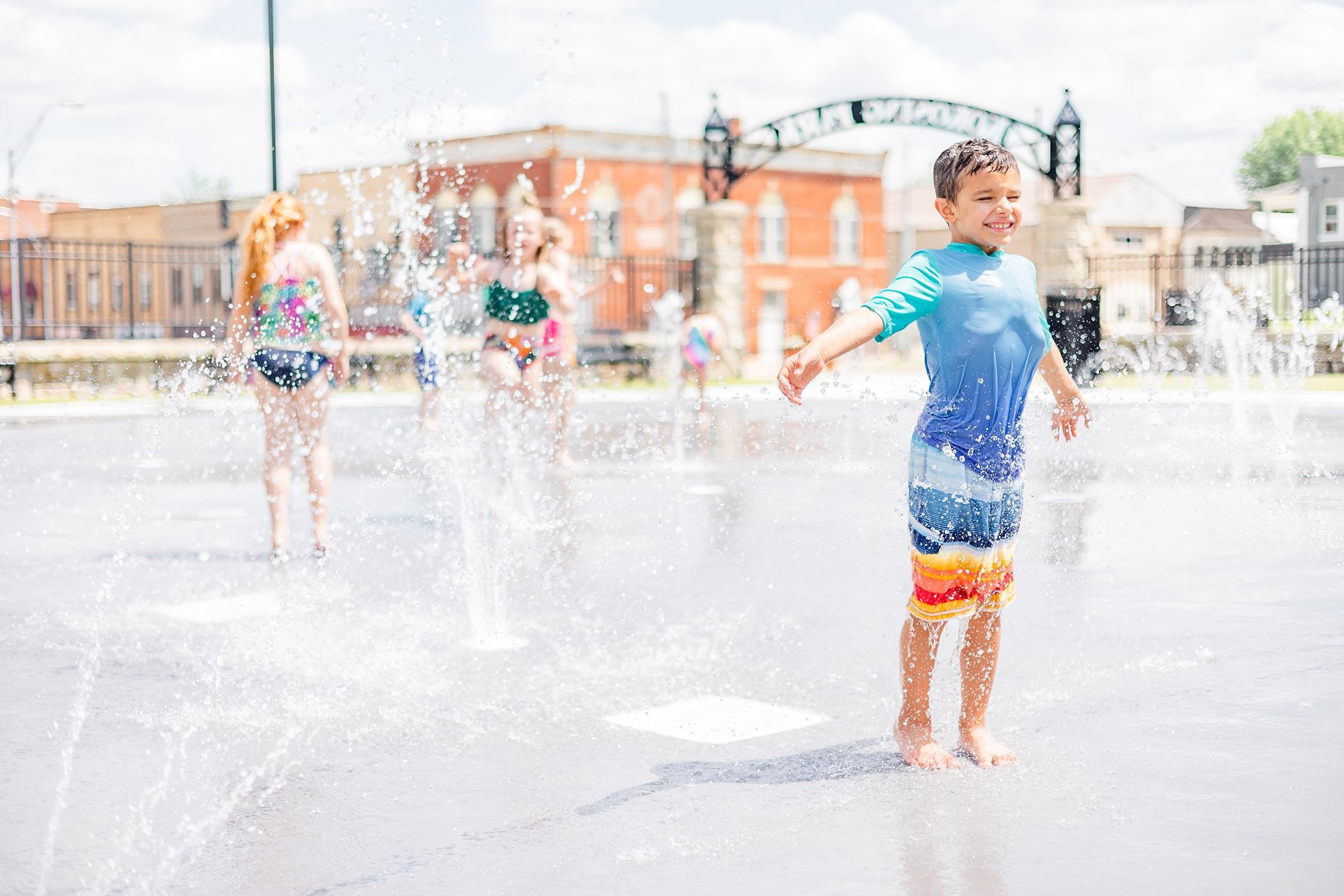 Photo Credit: Amanda Strater, Plus One Photography
*Author Note: Kokosing Park Splash Pad works on a pushbutton sensor, so the water only comes on as needed versus pumping all day. To start the splash pad water during the operating hours of 11 AM to 7 PM, please press the button on the floor on the south-east side of the splash pad that is lit up in red. The button will turn green for a few seconds, then go back to red. Wait for 30 to 45 seconds and the splash pad water will start. If water does not come on, press the button again. The splash pad will run for 15 minutes and automatically shut off. Please press the red button again to restart it.